Okay, I've been remiss in keeping things up to date here... again. Busy, busy, and more busy. Oh, yes, and did I mention BUSY? BEWARE, this post is UNGODLY long!!
This post is heavy on the pictures. Since I am too dragged out right now to deal with it, you're not gonna get a fancy photobucket slideshow. Just a row of pics... sorry!! Yeah, it was one of THOSE days again today, but that is for a later post (or maybe to be forgotten completely, hopefully!).
Anyway, Following my birthday, LAST MONTH (yes, I am remiss), I went to the northwoods to visit my in-laws and escape all by myself for the first time in 14 years. Yes, I said FOURTEEN years. It had seriously been that long since I'd been away from home overnight on my own. The trip up to Grand Marais was glorious. Even the convo with Mel from my house to Saginaw was fun - especially the look on the lady's face outside the rest room at Birch Run, where I exited laughing my ass off at something Melanie said. The traffic was light, the weather wasn't terrific, but wasn't that bad either, and the music was wonderful. Sang myself hoarse along with some of my favorite CDs all the way up. Wheeeee!
That night, I had wonderful talks with my sister-in-law and mother-in-law, and was completely taken aback at my father-in-law's appearance. I seriously thought we would lose him long before this, but the old Polish "Bull of the Woods" made one of those miraculous turn-arounds that people sometimes do, even when seriously ill. Make no mistake, the man is still dying of colon cancer. He has refused treatment and is at peace with that, but his color was so much better, he was moving around, smarting off, and generally his same, old, acidic self. It was great to see.
The next day (Saturday) was horrific, weather wise. Let's face it, it was not the ideal late summer weekend, that's for sure. Sweaters, lined jackets, insulated clogs and heavy socks were the order of the day. The wind was unreal, but the real focus was the whitecaps on the lake - even on the bay. Mind you, the bay is so sheltered that there are hardly EVER whitecaps on it. Soooo, being enthralled, as I always am with Lake Superior, I had to park the truck out at the point and take pics of "The Angry Lake." Thus:
Angry Lake Superior - shot looking toward the lake entrance to the channel: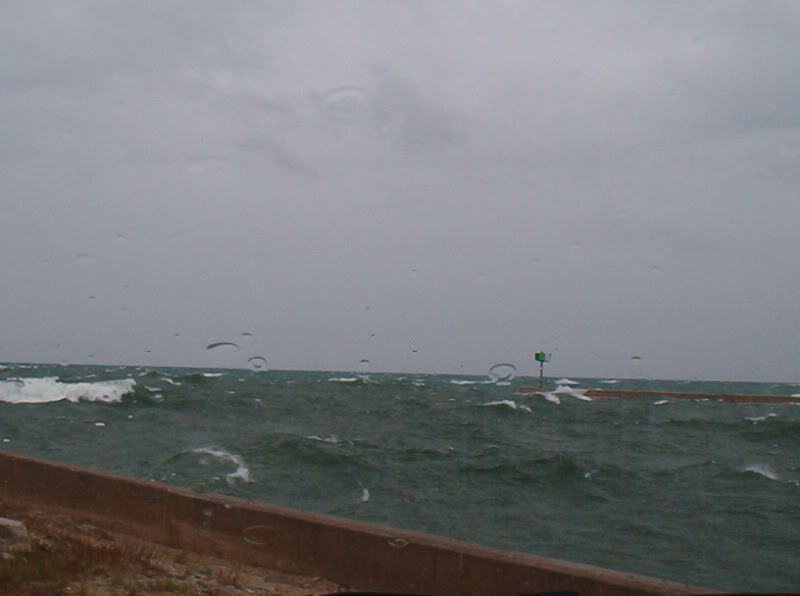 Angry Lake Superior - shot looking across the channel toward the School Forest:
After taking these shots, I wandered over to the Ranger Station where my sister-in-law works, which is just on the edge of the Pictured Rocks National Lakeshore. I got the following shots of both her and her co-worker:
Ranger Judy in front of a map of the park: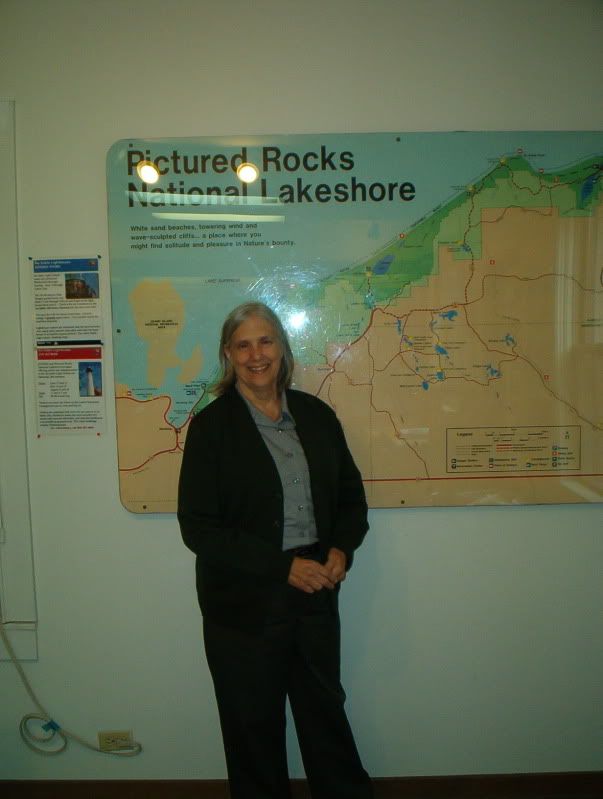 Ranger Brody behind the desk, looking all official: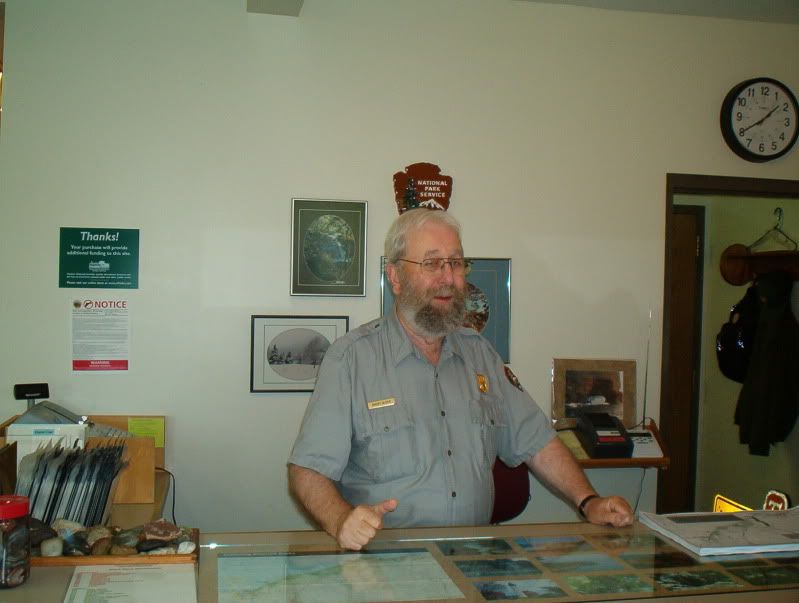 I had a nice, short visit with them. It seems, whenever I show up there, even on a slow day, I seem to attract others and they have to do their jobs... darn! Actually, it's an adorable little building with the cleanest rest rooms you'll find ANYWHERE. Srsly. If you ever make it up to Grand Marais, Michigan, you HAVE to go there and buy some sort of trinket, so Judy can get kudos from the National Park Service for her sales. Please?? *snicker*
The next day (Sunday), I spent alternating between reading, raking and sweeping. I don't often get up there, and I rarely get the chance to help out much anymore. There isn't much I can do to help them with my father-in-law, but I helped Judy by raking up all the downed branches in front of the house that fell in the windstorm the day before. I also swept all the decks and re-arranged mom's deck furniture to her liking. At least I felt like I'd accomplished something. Oh yeah, and remembered to bring her hibiscus in cuz they were going to have a frost that night... yes, it was THAT chilly!!
Then it was Monday and time to go home. Still, I hadn't been to Agate Beach yet and I was determined to bring home SOME rocks, whether or not it took me all day to get back. First, however, I made a swing back up the point (known locally as Coast Guard Point) to take comparison pics of the channel on a calm day. On the way there, I stopped to take pics of these two beached fishing vessels... ghosts of a time when Grand Marais, Michigan was a bustling fishing community.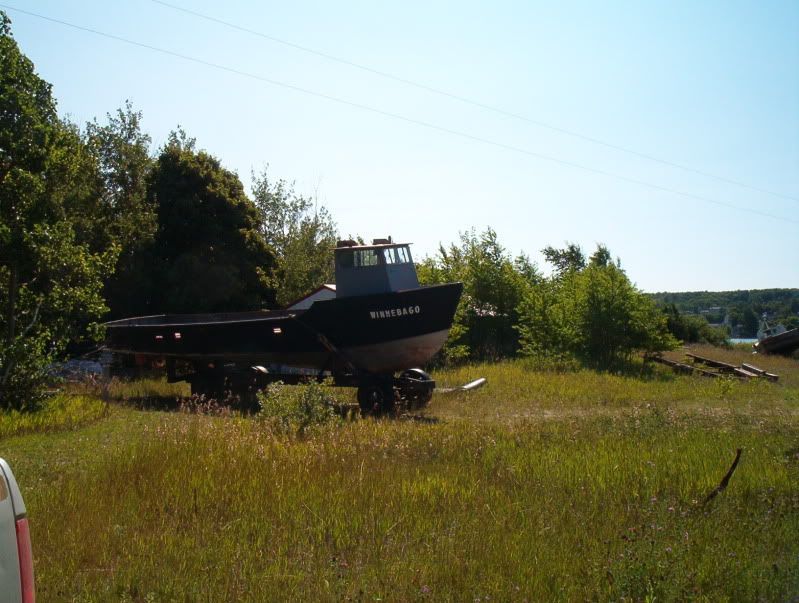 The Arbutus: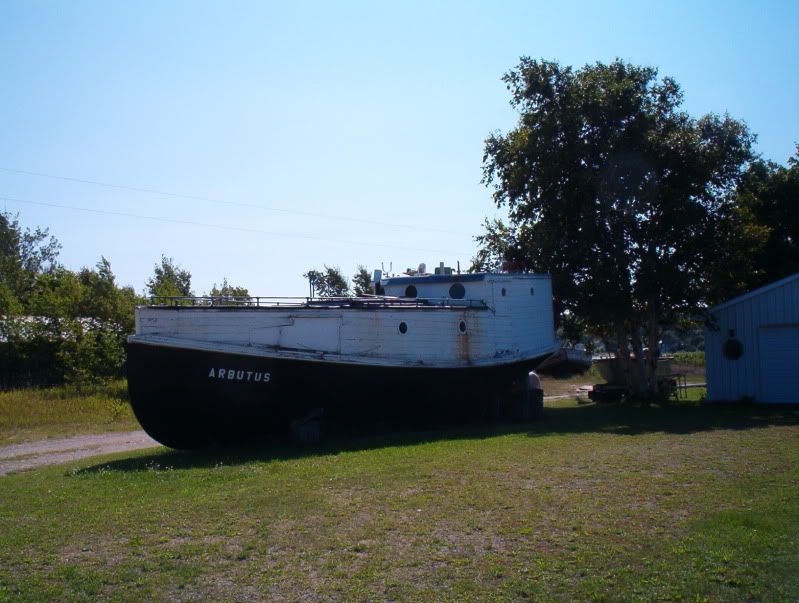 I continued on to the channel and took the following pics for comparison with the "angry" ones above.
The channel shot looking toward the entrance, two days after the storm:
Looking across the channel toward the School Forest:
Big difference, huh? Then, I went back toward town, stopping at my annual haunt since I started dating MSK... I've only missed TWO years out of the 26 we've been married gathering rocks on this beach:
Agate Beach looking toward the Au Sable Lighthouse:
Agate Beach looking straight out from the observation deck (which all the locals HATE because it obscures the view of the lake, but it supposedly protects the darn piping plovers):
Agate Beach looking toward the channel entrance and the Grand Marais Outer Range Light: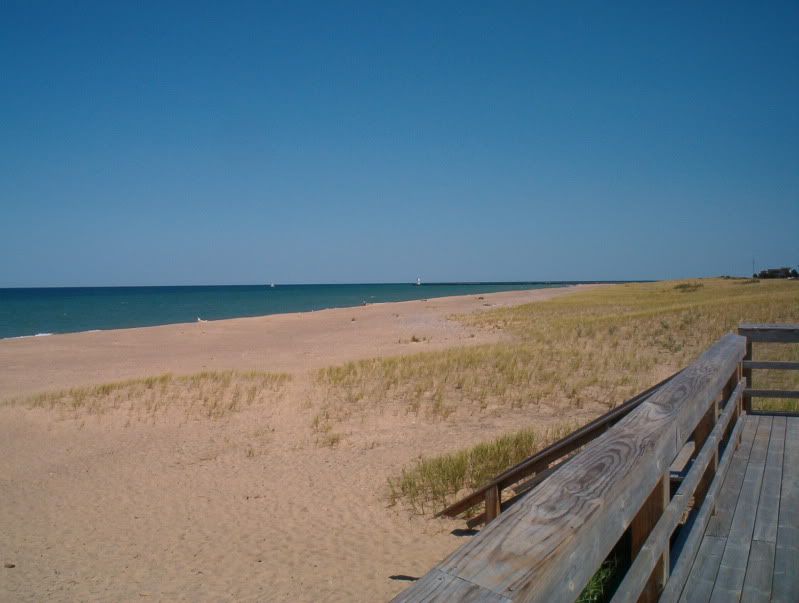 For once, I think I found something that remotely resembles agate. It's actually pretty hard to find amongst all the pretty, shiny rocks, believe it or not. I don't have time to do the hardcore agate hunting that a lot of people do there, so I content myself with picking up unusual rocks or fossils I don't already have in my 26 year collection! *smirk* Yeah, 26 years worth of ROCKS. Believe me, MSK just LOVES it. NOT. There is something so calming and restful, though, about just wandering the beach and picking up all the interesting ones. I don't think I'll ever get tired of the ever-changing landscape either!
After 30 minutes (which was FAR too brief for my tastes), I resigned myself to packing stuff up and heading out. One last visit to the Ranger Station yielded this picture of the exterior. Yeah, I know, much like any other National Park Service Ranger Station, but this one is like HOME:
And you can see the front end of my poor, abused Dodge Ram in the pic as well. Poor dependable, over-used, big, beautiful truck!! Truck and I hit a milestone on the way back from the Ranger Station too:
I had to pull over and record the moment, since I missed immortalizing the classic 100,000. Unfortunately, the exhaust in the poor thing is shot to hell and makes it sound like a freakin' 747 when one accelerates. AND, it developed an interesting quirk on the way home (347 miles from the in-law's place to mine)... it now surges slightly when traveling a constant rate of speed. Whether one is using the cruise control or not, there is just a minute surge - maybe just 100-200 rpm up and back down. Neither Steven nor I can figure out this phenomenon. It might have something to do with the fact that the EGR is messed up because of the blown exhaust, but that's purely speculation at this point.
At any rate, pulled out of town and spent a little time visiting MSK's brother on my way out... pulled out of Kamp at about 4pm. Now, everyone who knows me, knows that it isn't going to take me the 'regulation' amount of time to get home. It SHOULD take me about 6 hours, even pushing the limits a little. As usual, it took about five from Kamp. With three stops. Yeah, I just can't drive within limits - except for the ones imposed on me by the vehicle I'm driving. I manage to avoid obstacles better than MSK, though. Missed three deer on the way home - that's a little better than HIS record, that's for sure. From that Monday evening, however, I feel like I've been swimming underwater ever since. The next post will probably deal with all the BUSYness from then to now, if one is so foolish as to read that stuff!
Can't say I didn't try to warn you before you got this far, can you? Sorry!!
;D
~~me~~